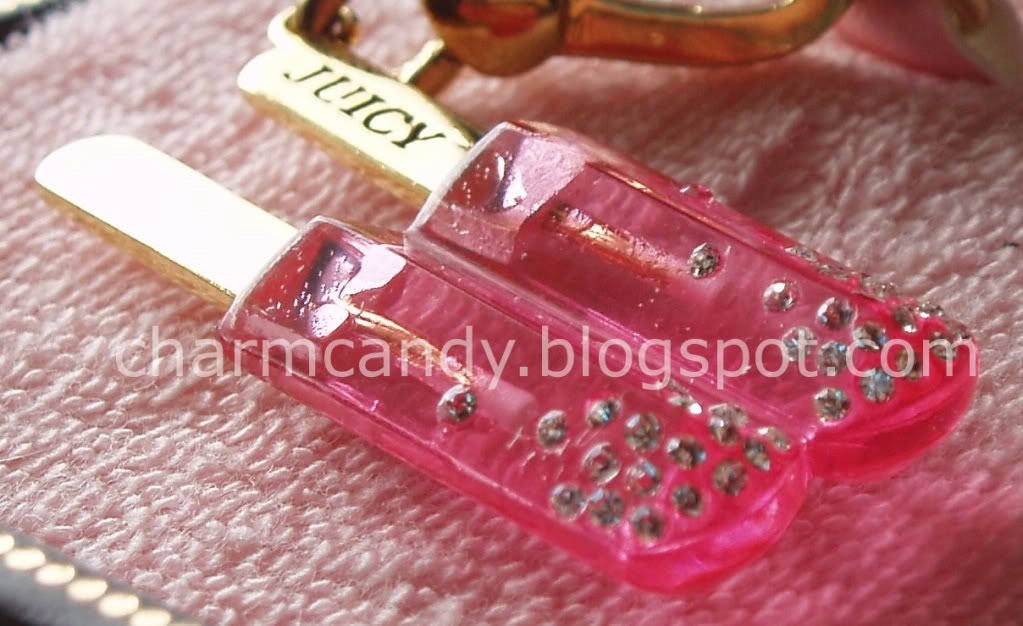 If it wasn't obvious by now, I'm a sucker for pink. I loved pink as a kid, had a pepto bismol pink room until I was 10, and then it was pink stripes with carousel horses after that. Pink carpet. PINK PINK PINK! Breathe deep though, because I did go through that weird-but-typical rebellion against pink and wore a lot of black when I was 15. I rebounded sometime later, returning to my love of.. PINK.
When this charm first appeared on Nordstrom's website I knew I'd have to get it, regardless of price and quality. The quality issue is a big one on this charm, for several reasons. The first one is that the entire piece (including the "sticks") are made from some type of very lightweight plastic/acrylic. It looks like small metal wires run into the popsicle part itself, which hopefully reduces the chances of the "sticks" breaking off. Still, this light plastic means that this charm will crunch very easily if accidentally stepped on or smooshed. Which brings me to point two.. the crystals. If you even look at this charm crooked the crystals are going to come out. I love this one and I want to hang it off my purse during the summer but I know that as soon as I do all of those pretty little sparkles are going to wind up on a floor somewhere, never to be heard from again. Note that the crystals are limited to the front of the popsicle.
The price is also unreasonably high for the popsicle charm, given the materials it's made from and the imminent problem of missing pieces. Despite the obvious flaws in this one, it's still a very delicious charm.
Price:
$42.00 MSRP
Box:
Brown/Pink
Code:
YJRU2992
Season:
Spring 2009
From:
RevolveClothing.com
Misc.:
Made in China, not intended for children under 12.