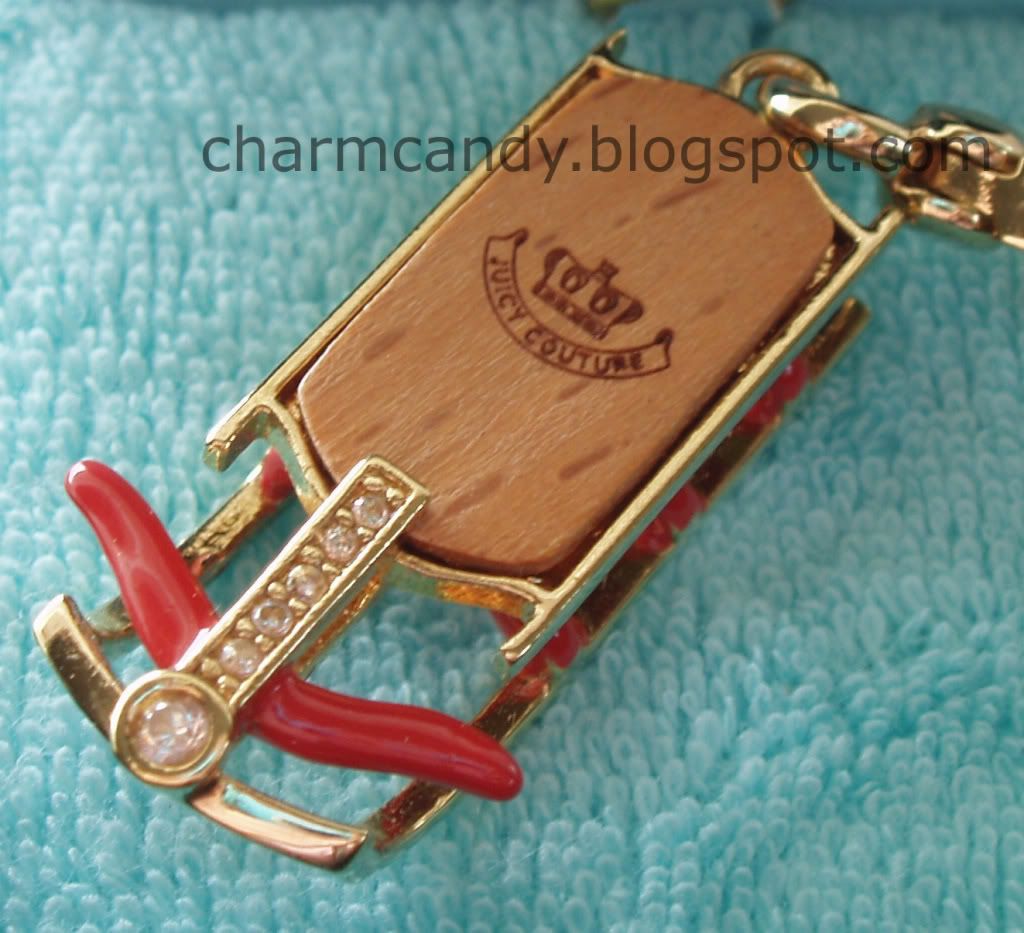 When I pulled this charm out my first instinct was to save it for a holiday themed post. But my OCD kicked in and it's being posted now because I'm trying to finish all of the older charms (black/blue boxed) before I move onto the newer ones (pink/brown, silver charms, and LE charms). So today is your lucky day if you were wondering about the sled.
I'm not sure when or why I acquired this charm.. any sled I ever rode was not quite this fancy. But should you get the chance to touch this one you'll know why I've held onto it for this long. I'm not sure if Juicy used genuine wood for the seat, but I'll assume they did (it doesn't feel like anything fancy.. perhaps just a small bit of balsa wood). The logo isn't just printed on top of the seat, it's actually burned in there. It could be carved but I think the detail is too intricate for that and I doubt you'll find many hand-made details on something as mass produced as Juicy charms. A small row of crystals in conjunction with red acrylic detail creates an almost arrow shape toward the front of the sled. You can see that the bottom is fairly uninteresting, but I imagine that most real sleds don't have much of anything going on there, either. Once again, the lobster clasp is the heaviest piece of this charm.
This is a perfect charm for those of you who live in cold weather climates or have fond memories of spending winter vacations on a sled such as this. I've contemplated selling it several times but the logo detail on the wood is what keeps it in the back of my armoire.
Price:
$40.00
Box:
Black/Blue
Code:
YJRU0565