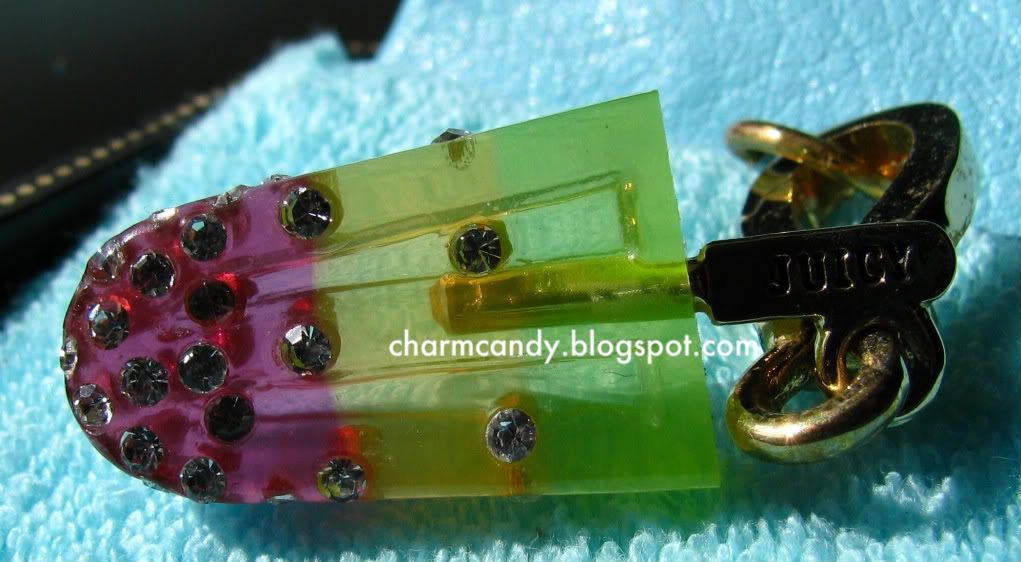 Sweltering temperatures are fast approaching for most of us, as June is coming to an end. Everyone beats the heat in their own way. Some of us grab a towel and head for the pool or beach, some seek shelter inside with the AC going, and some of us grab a sweet something from the freezer. If that last one is you then this charm is going to be a must-have.
Looking at these pictures now that I've uploaded them, I realize I should have used flash for this charm because what I'm showing you does the charm no justice. The translucent colors are vibrant and gorgeous. They have definitely captured that light and sugary feeling of a popsicle. The pave crystals are placed nicely and evenly on both sides (you might not be able to tell but each picture is of a different side!). Again my biggest complaint here is that they're just set within the plastic and will most likely fall out if enough (which is never much at all) force is applied.
The little gold bar with Juicy printed on it is a nice final detail. It reminds me of the classic popsicles that came with a joke on one side of the stick and the punch line on the other. Of course you had to eat the popsicle to see the answer, but I think that was half the fun of having the popsicle anyway. There is also a red, white, and blue version which is very patriotic and unfortunately not yet part of my collection. I passed on it because I figured one version was good enough but regretted it later on. One day!
Price:
35.00
Box:
Black/Blue
Code:
YJRU0747