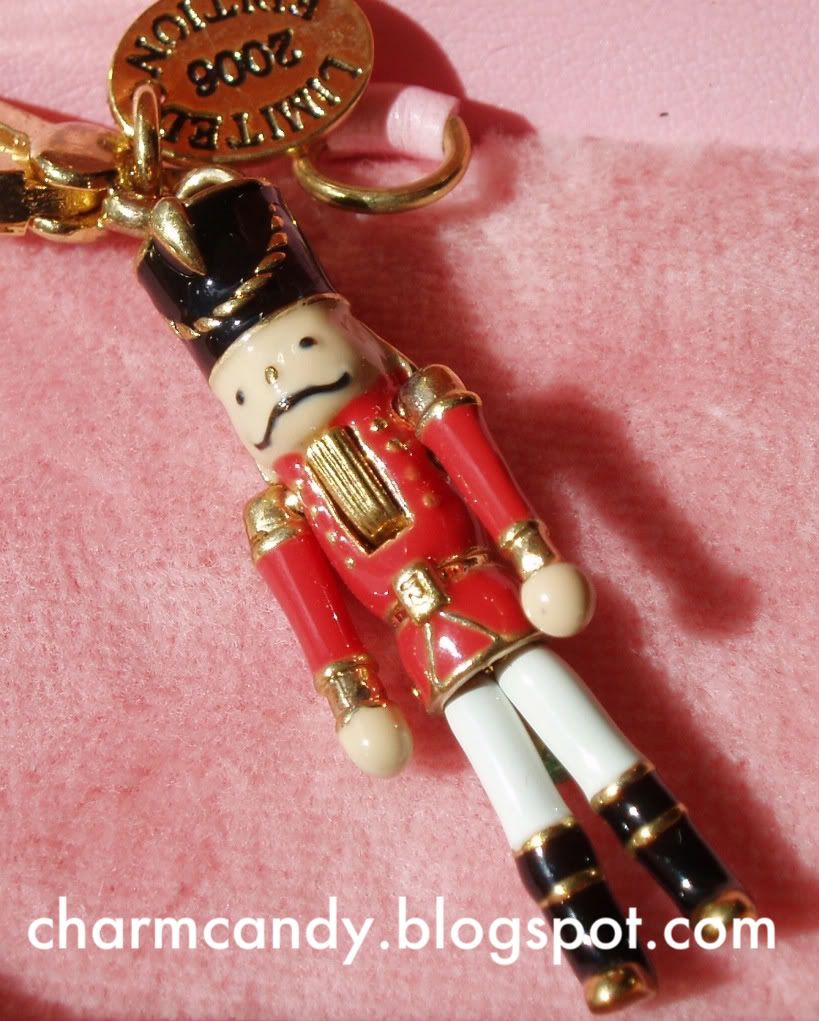 I had originally wanted to hold off on posting my LE holiday charms until closer to December. But the collector in me knows that these will probably start appearing on eBay by September or October, so I hope you hunters will be properly armed with information before you seek them out.
This little guy is and will always be one of my absolute favorites. Christmas is my favorite holiday, so perhaps that's why I'm so enamored with all of the holiday charms. It could also be that this guy is just TOO cute!
Let's start with the face. The eyes and nose are dainty, but the handlebar mustache is exquisite. Golden fringe lines the back of his head, beneath his very tall and proper hat. Now how about the uniform? Perfect, perfect, perfect! His festive red coat is trimmed with golden accents -- I think the thin little belt and buckle are my favorite. White pants and black boots finish off the outfit but another important detail lurks around the back: the "nutcracker" lever! Unfortunately it doesn't move (which I suppose is good since technically this charm has no mouth), but I still think it's great that it was included.
The Nutcracker's limbs do move, although the legs are very limited in their range. The arms are hinged together so they move at the same time and height, but note that they will not swing backward.
Now the bad news. Prepare yourself and start saving your pennies now, because this little guy has had a very high resell value ever since he could no longer be found in stores. Set up a saved search on eBay and don't wait until December, because the price will only increase exponentially as it gets closer to the holidays.
LE Tag Year
: 2006
Price:
45.00
Box:
Gold/Pink
Code:
YJRU0927