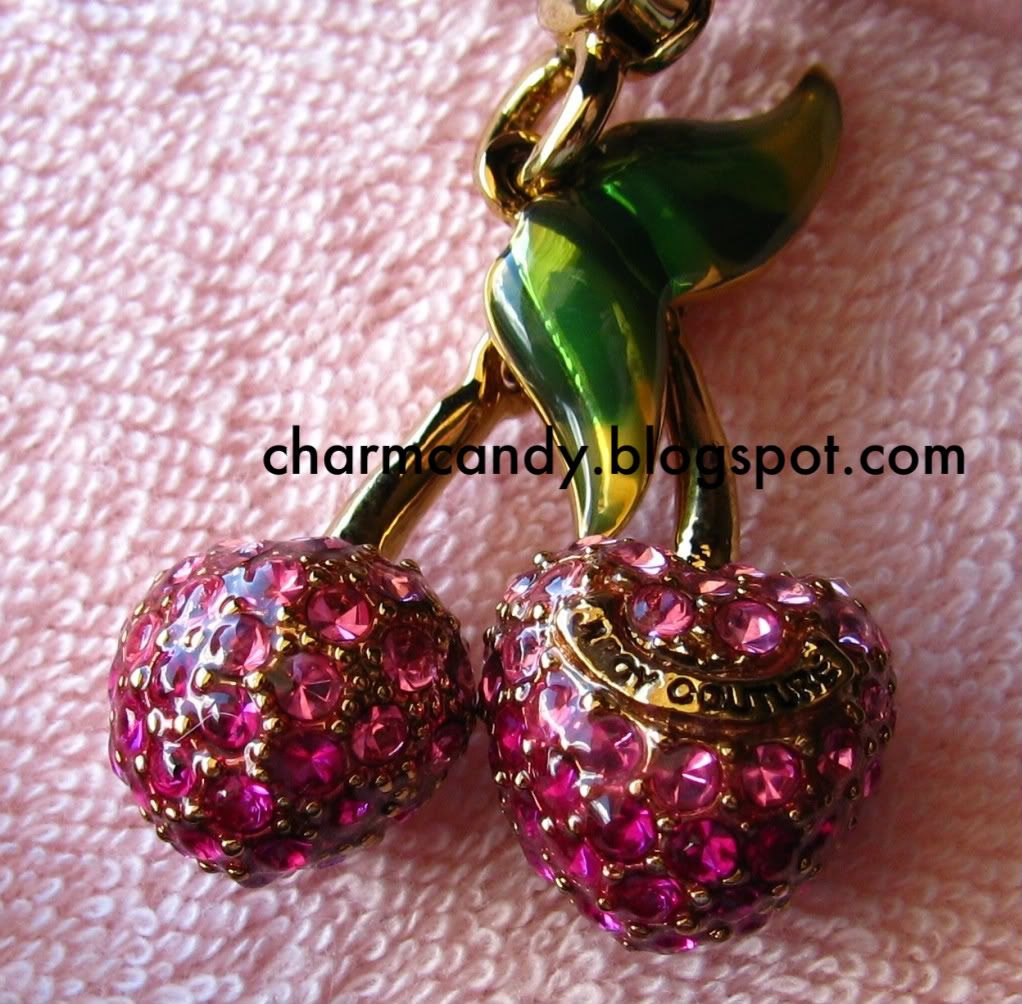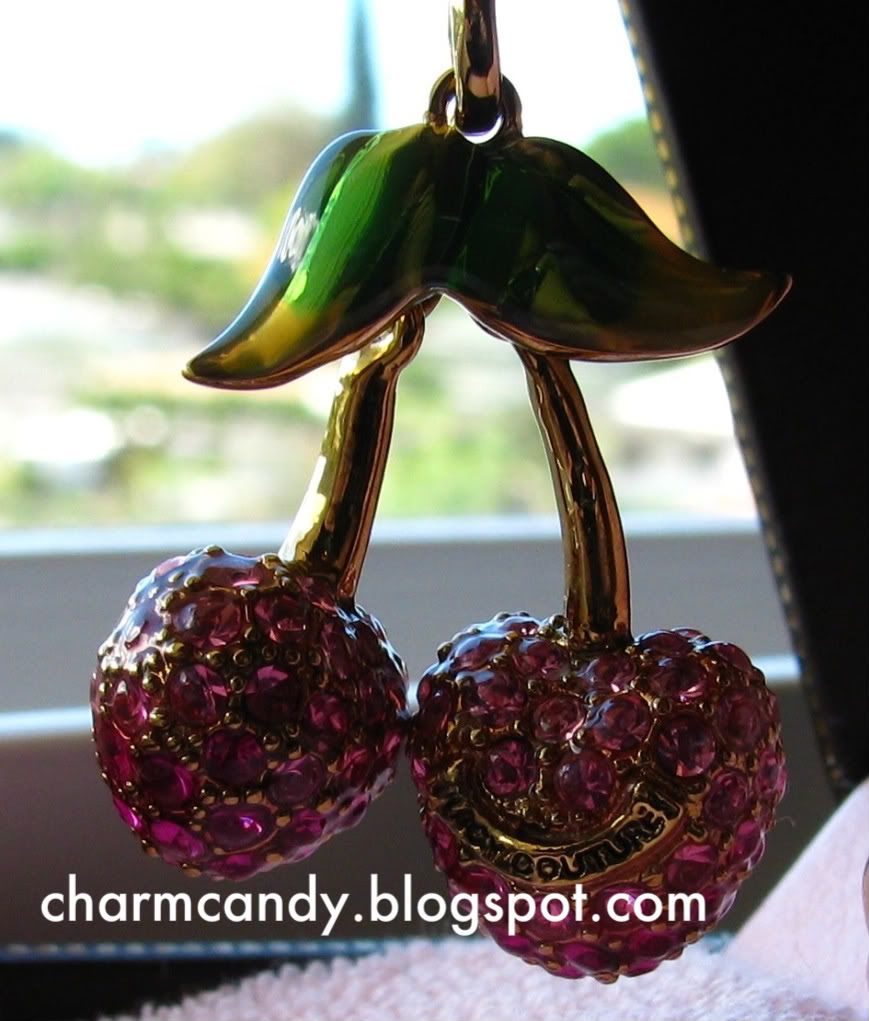 GASP! I began to find myself in a panic last week when my Juicy store said they didn't have the new pink cherries charm in and pretty much didn't know what I was talking about. They hadn't appeared on any of the websites yet, and although a few tPFers had already scored them I couldn't hunt them down if my life depended upon it. So I called some more and tracked down one single pair at Nordstrom's and had them put on hold.
When I went to pick them up today there was actually a second pair out on display so I scooped it up and am still debating what to do with it. Little E doesn't care much for cherries so I doubt she'd love it (even if she is a big fan of the sparklies). For now it will just have to join my second whale in charm limbo.
I'm absolutely smitten with just about everything, from the dual-toned green leaves and the deep, luscious pinks and almost purples that are used on the cherries themselves. The first picture was taken out in direct sunlight, so you can see the dimension and brilliance of the stones (even if they are just plain old rhinestones/crystals I think Juicy uses a good quality and mounts them nicely). The other two pictures were taken inside, with natural daylight. Juicy's iconic banner is strung across the larger cherry in such a subtle manner that it isn't noticeable unless you're either looking for it or happen to be fairly close.
What else do I love? For one, that it's a gold charm and not silver. I have nothing against silver and often prefer white gold pieces when it comes to fine jewelry. But for this charm I think the gold suits it perfectly, especially on the stems. I also like that both stems and the leaves are all freely connected by jump rings, meaning that they will swing and hang as they please.
Now, for my double edged sword. The crystals have a glaze over them, which is especially detectable around the top of the charm. You can feel the smoothness the best at this point, and it seems to thin out the further you go down the cherry (the settings are easier to feel). On one hand, I'm ecstatic about the glaze because I will have no reservations about actually wearing the charm. On the other hand, the glaze kills a little bit of the dazzle from the crystals. It's not enough to be upset over, but you can note a visible difference between this charm and other pave charms (such as the pineapple) that are not glazed.
This charm appeared on Nordstrom's website today -- actually, as soon as I came back from shopping. Go figure! S&CO is rumored to be getting them in soon, and SBB promised a new charm shipment sometime this month. If you can hold out and grab them at a discount that'd be great! However, given how hard it was to locate these to begin with you may want to get one while you can find it. I have no doubt that this charm will go fast and resell for a higher than retail price once it's out of stores. I would wait awhile to take your chances on eBay, though, as fakes were coming out of Hong Kong quite awhile before this was actually released by Juicy. If you do find one on eBay that you think is the real deal, don't hesitate to ask for pictures of the barcode tag to verify the YJRU code.
Price:
$52.00 MSRP
Box:
Brown/Pink
Code:
YJRU3075
Season:
Summer 2009
From:
Nordstrom's
Misc.:
Made in China, not intended for children under 12.