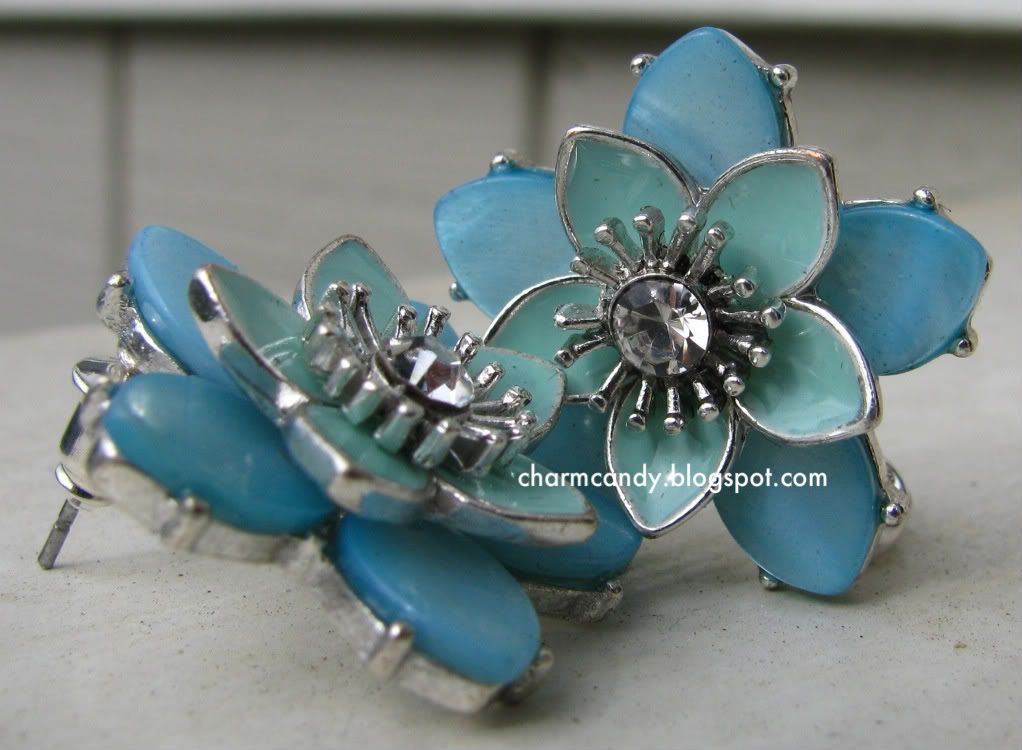 If you're anything like me, I know exactly what just went through your mind: omg omg omg! NEED!
Just look at them! Pearly aqua and blue flower petal earrings, a perfect match to the white and midnight Garden Party rings. Right?? YES!
But you feel like something is off. How can this be, when you've pretty much seen the lineup for spring pieces and although this would fit in there perfectly, there's no way it would be out without you having heard something, right? And where are all of the coordinating pieces in the same oceany hues?
Well, for starters, these earrings are not Juicy Couture. Yeah, you heard me right. They're a spitting image of our beloved MOP flower but they're definitely not Juicy. So who made them? The answer is probably going to surprise you as much as it surprised me.
In case you didn't catch that, they're by Charlotte Russe. Better yet, they have 3 different colors out. I suppose that I should be a little peeved that some other company practically cloned Juicy's design, but I'm not. Not even in the slightest.
I love this flower design. It may be my favorite non-charm design of all time. I have both wish necklaces, both rings, earrings, and bracelets. I can't get enough of the MOP flower. So if someone else is going to give me a few more I'm not going to argue.
I haven't even told you the best part yet! These are only $6 a pair. Better still, Charlotte Russe's earrings are 2 for $8. You can have two pairs for roughly 1/4 the price of one pair of Juicy earrings.
I'm not knocking Juicy down here. I'm sure that their materials are of a higher quality (though possibly only slightly), and their packaging sure is nicer. But Charlotte Russe really beat them to the punch with these. They're bigger (about the size of a quarter), come in more colors, and cost significantly less.
These are the only three versions I could spot; I have no idea if they have other colors out there. The blue and black are particularly stunning. The peach ones are sweet, but if you're only going to get two I say skip them. Since the earring promo was 2 for $8, I picked up one other pair: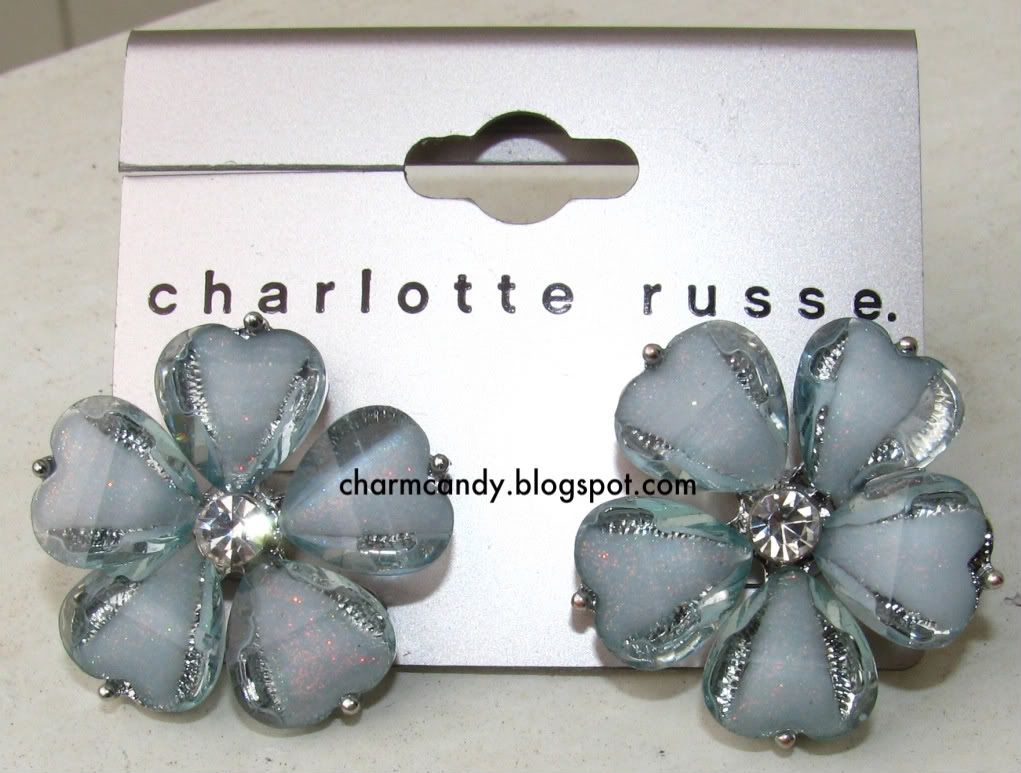 These are WAY prettier in person. There's a very subtle amber shimmer that runs through the white in the middle.

I was really thrilled to have found these. I actually went into Charlotte Russe looking for nail polish, of all things. These just happened to catch my eye while I was checking out the accessories section. Normally I never get the really good deals. I have no problem finding amazingly cute things before they're sold out or hard to find, but getting them for a good price is an entirely different thing. I wish we had more than one Charlotte Russe in Hawaii so I could see if there are more out there.

What do you think? Good or bad that Juicy's gorgeous flower design is popping up elsewhere?