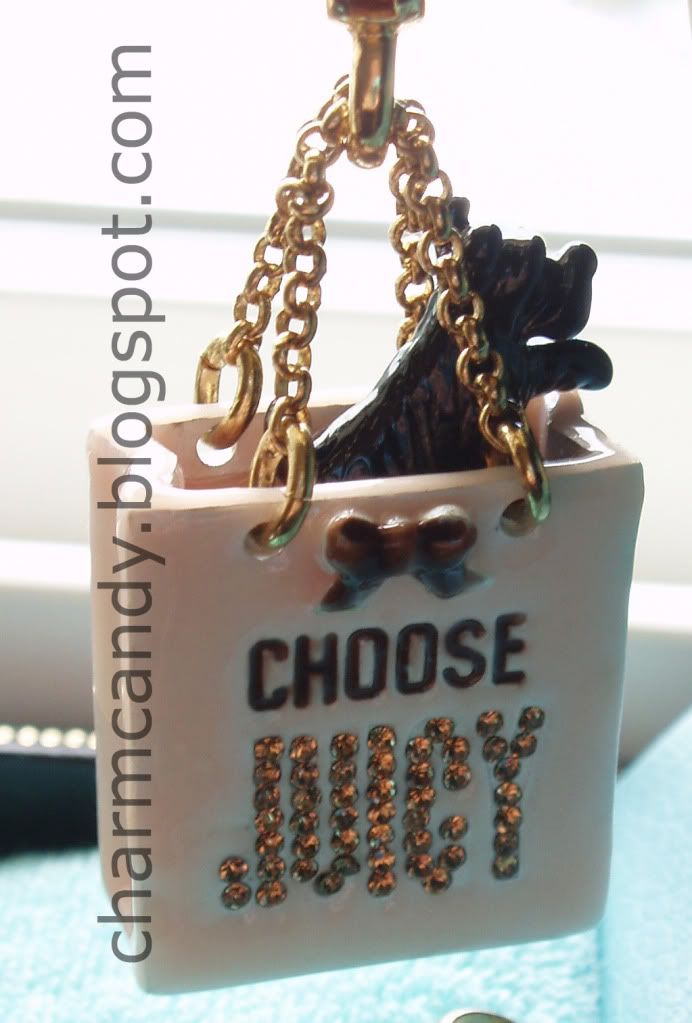 This charm could possibly, once and for all, settle the debate on yorkie vs. scottie. I am right there with those of you who think the mascot looks like a scottie dog - the black coloring and silhouette look exactly like one. Still, every dog thing that I have from Juicy labels it as a yorkie. It could be one of the reasons I love Juicy so much; I have my own Yorkie! Although he'd never sit in a shopping bag, I know that for sure.
Nonetheless, this charm is really cute. It's a pretty good replication of the actual shopping bags that Juicy gives out, and even includes the brown bow at the top. The handles are made from chains, which I love. The "Juicy" half of "Choose Juicy" is all decked out in crystals which gives the whole thing a little extra glamor. The OCD half of myself loves the fact that it hangs centered when worn, since the lobster clasp slides freely along the bag handles. No complaints about this charm - I think it's done quite perfectly!
Bloomingdale's produced their own version of this charm fairly recently, so if you like this one but are having a hard time finding it that one might be a suitable alternative. The only differences would be that the Bloomingdale's bag is brown and says "Little Brown Bag" and, unfortunately, does not include any pave lettering. Still, the concept is the same and it's iconic for anyone who loves Bloomingdale's (one of my favorite pairs of pajamas is Bloomie's brand).
Price:
55.00
Box:
Black/Blue
Code:
YJRU0843