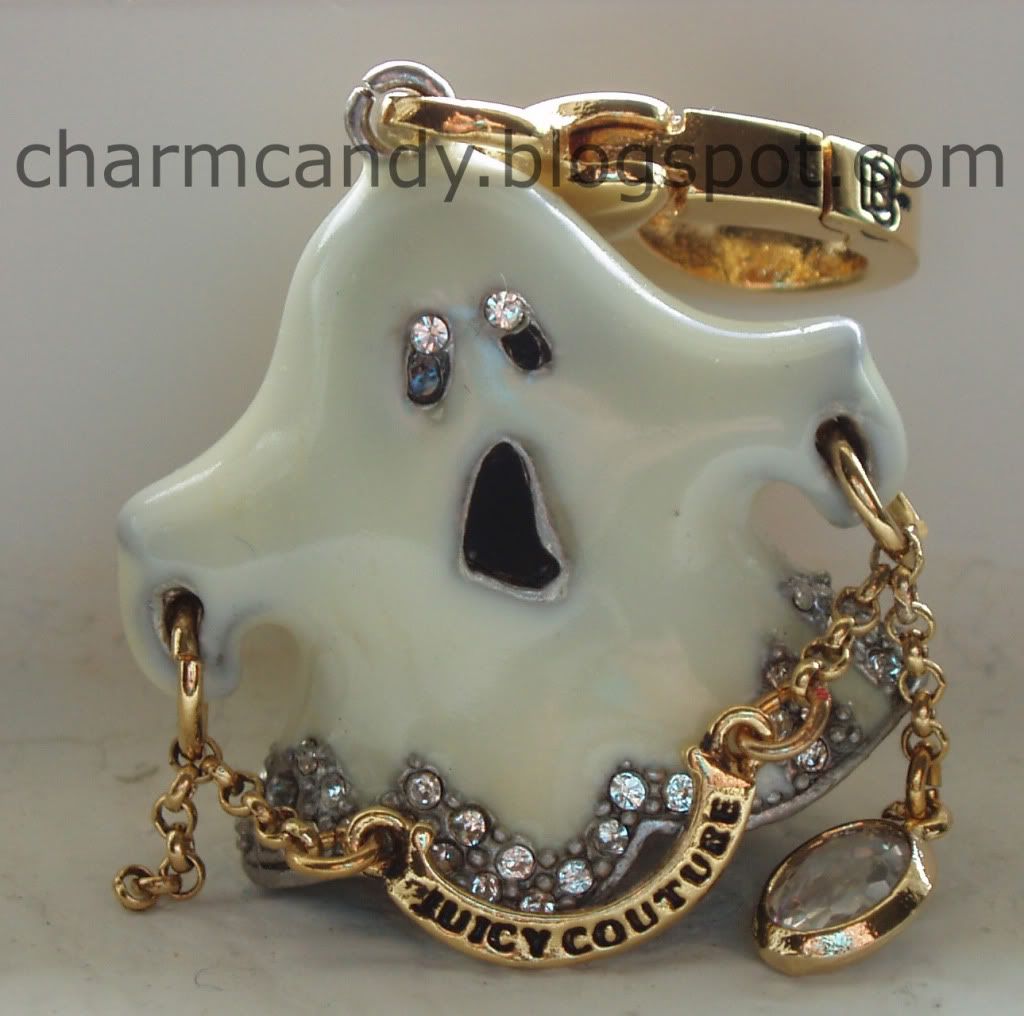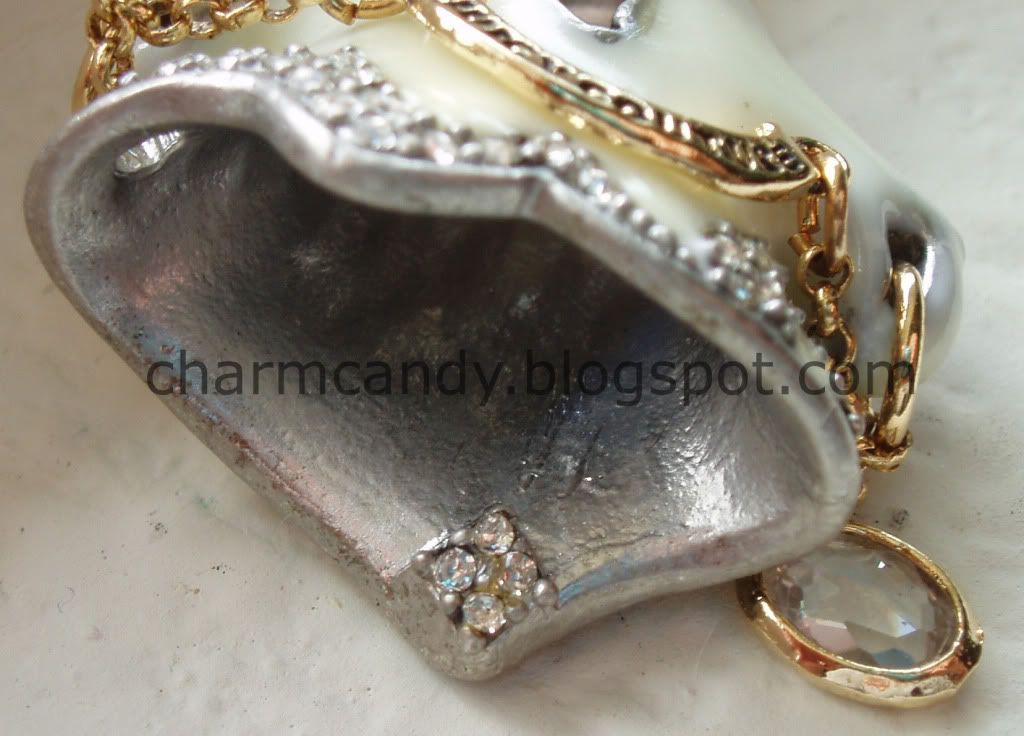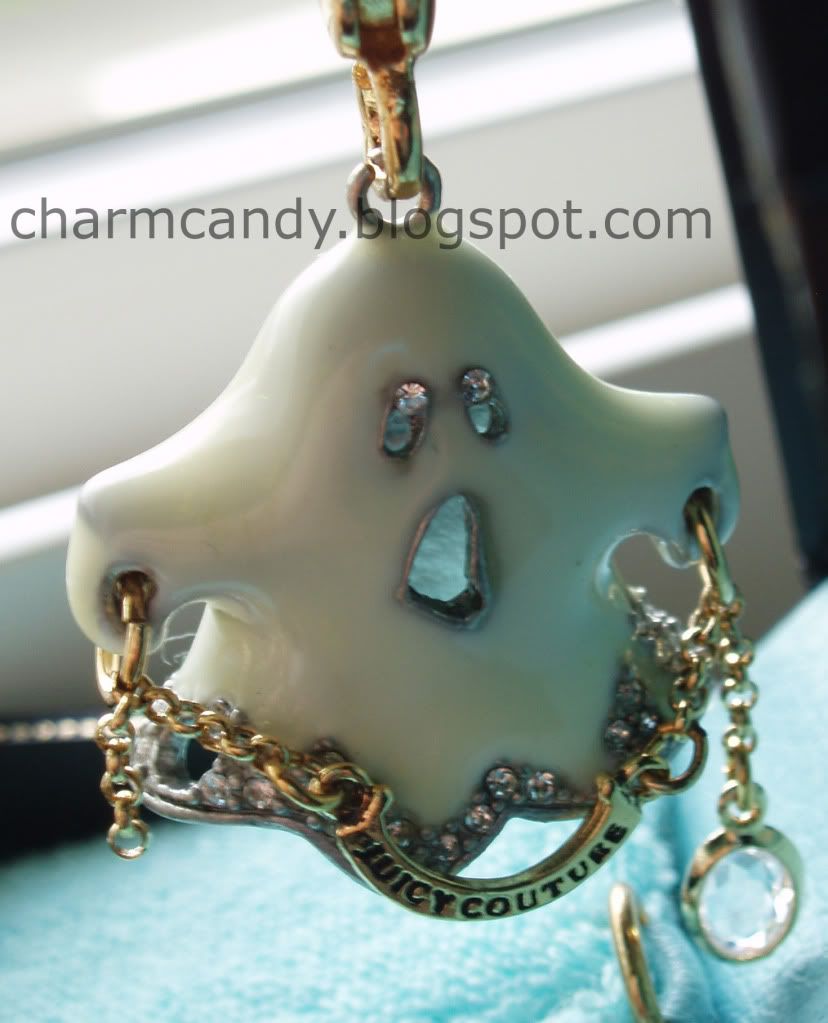 This is a HG charm for many, and I don't blame them. Juicy has produced several Halloween themed charms, but none are as elaborate (in my opinion) as the "No Scary Fashion" ghost.
There is a great amount of crystal pave detail along the bottom of the ghost, which accentuates the Juicy Couture banner that he's holding. The larger dangling crystal on the left side is a sweet touch. A few important details should be noted about this charm, in order to help you identify authentic ones when you're searching to purchase one. First of all, the mouth and eyes are
not
black enamel, as they appear to be in the first photo. They're actually cut out, which is a little clearer in last photo. Second, there is a very small cluster of pave crystals (four, to be exact) on the inside of the ghost charm. I imagine that this very small detail is easily overlooked and may be missing on pieces that are not authentic. Last but not least, you can see that the pave detail around the bottom edges are not even and do not follow a pattern. The placement is sporadic, perhaps in an effort to make it appear more raggedy?
Don't be afraid to ask for extra photos before a potential purchase with this little guy. He resells for an extreme amount (think in the $200-$300 range) and the last thing you want to do is waste your money on something that isn't authentic or has missing pieces. Several sellers have been known to sell this charm sans banner and not disclose it - I find that kind of practice to be deplorable. Also be sure to check for any missing crystals, as they can be a pain to match and replace later on.
Price:
45.00*
Box:
Black/Blue
Code:
YJRU0506*
*This charm was produced prior to Juicy adding descriptive names and prices to the bottom of their charm boxes. This is the code given on the box that the charm was in, but does not necessarily mean that this is the correct price and YJRU code for the Ghost charm.