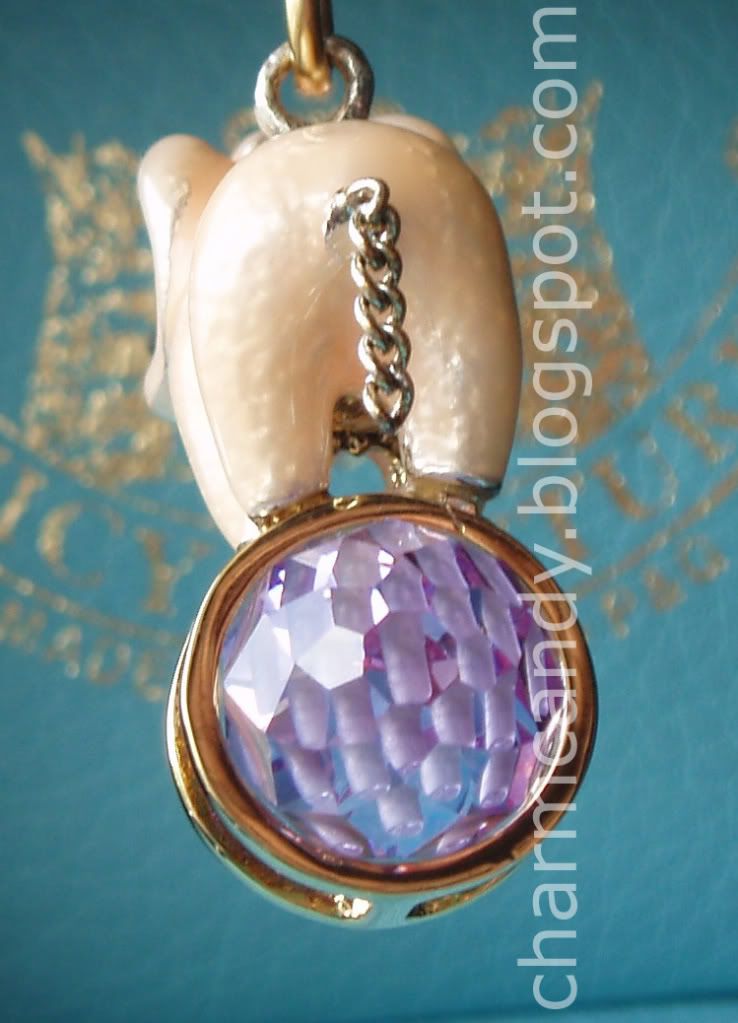 This is one of my favorite charms, for many reasons. One? Animal charm! Two? It was
the
first charm I ever bought in store. I walked into ADASA one sunny afternoon and saw it sitting smack in the middle of a whole case of charms. It was the only one and I couldn't pass it up. (I
really
wish I hadn't passed up the Las Vegas bracelet that was in the case with it. Ouch!)
Even though I don't get the concept of an elephant perched atop a crystal egg, I love the way the entire thing came out. I think the pale pearly pink flows nicely with the bright translucent purple. The ring around the middle and the tusks might have been better off if they were gold instead of silver, but it's hardly noticeable overall. My favorite detail has to be the tail. I love it when Juicy uses chains to convey hair or rope; it's a great extra touch.
Now the bad news: this little guy rarely makes it out to be sold. I think the charm isn't well known enough that everybody and their cousin is searching for it, but it IS unique and generally goes for a lot of money when it does appear. Over the last 4-5 years I would say that I've seen maybe 3 or 4 come up for sale. It would be beneficial to set up a saved search for this one if you're after it.
Price:
50.00*
Box:
Black/Blue
Code:
YJRU0408*
*This charm was produced prior to Juicy adding descriptive names and prices to the bottom of their charm boxes. This is the code given on the box that the charm was in, but does not necessarily mean that this is the correct price and YJRU code for the Elephant charm. I did purchase this myself in store, and it has never been switched out of its original box.