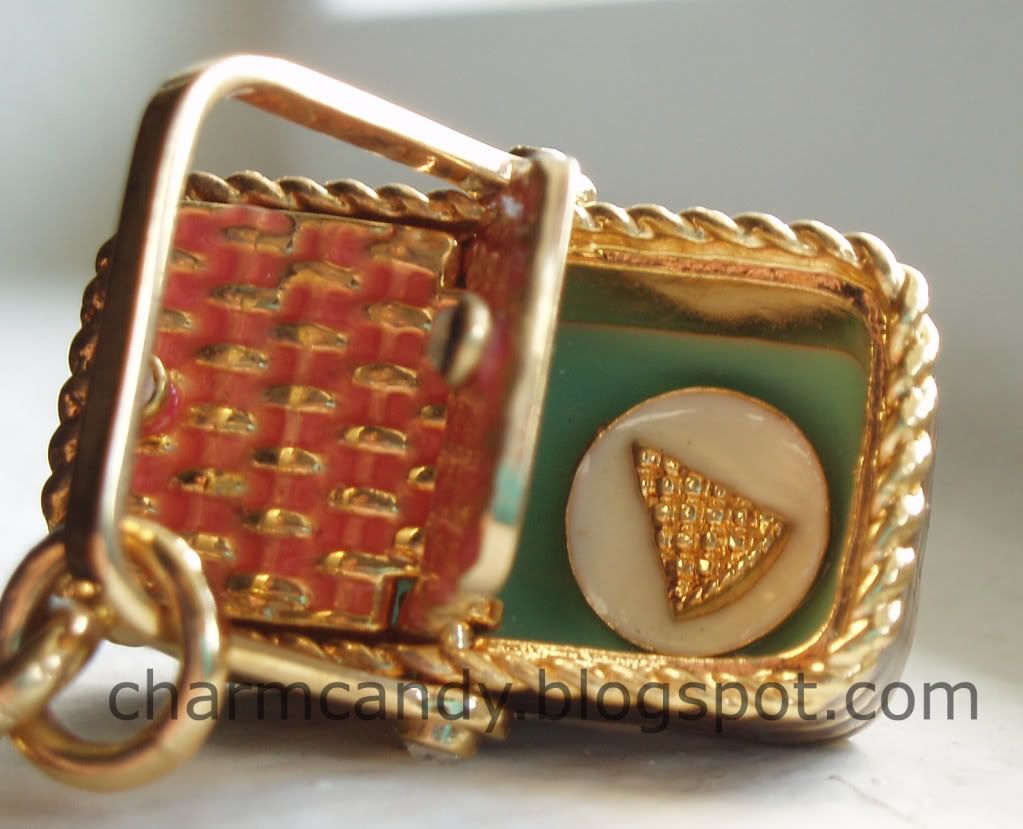 Get ready for it, because you know it's coming.
Hey, boo boo! Since I'm not a weekend picnic-er I couldn't resist since that's the first thing that comes to mind when I see this little basket. If Yogi Bear had a wife, I'm fairly certain this picnic basket is one she'd be interested in snatching.
Even though this charm isn't in my top 10, I have very few complaints about it. I'm not too crazy about the dark brown color of the basket, or the way that the lobster clasp is free to slide around on the handle. This alone will cause the basket to never hang centered, which drives me a little crazy. However, the inside more than makes up for any complaints I might have!
Just look at it. A sweet, pale green color coats the bottom and makes a nice presentation for the slice of pie and folded napkin inside. There's even a golden knife and fork wrapped up in the napkin, which adds amazing detail to something that could have been very plain. It's a little hard to tell from the pictures, but the pie and the napkin are both 3-D and are not just painted on.
Another charming detail are the crystals; one on each hinge of the handle and at either end of the lid. I haven't seen this charm up for sale recently but I would imagine that its prices aren't exorbitant when it does. This charm is definitely on the larger size, and has a significant bit of weight to it.
Price:
50.00
Box:
Black/Blue
Code:
YJRU0817