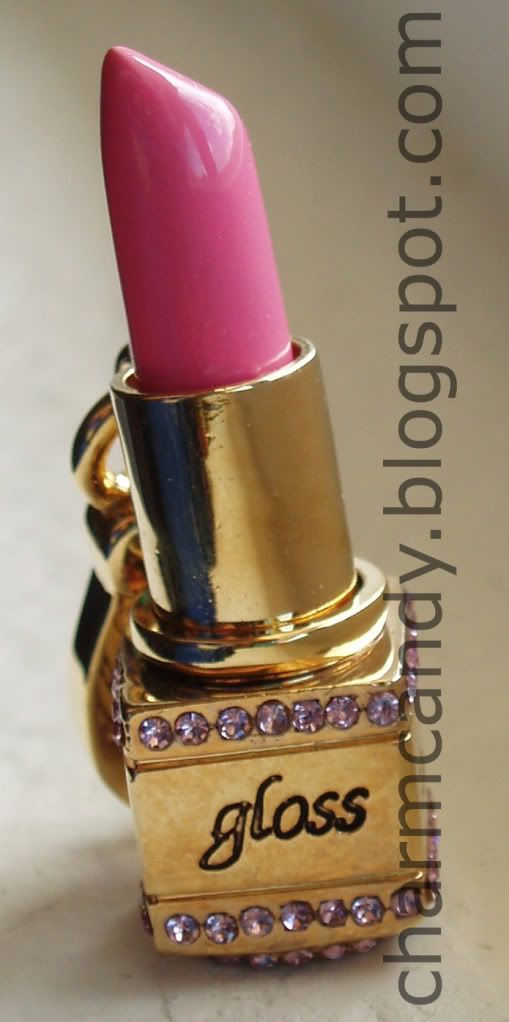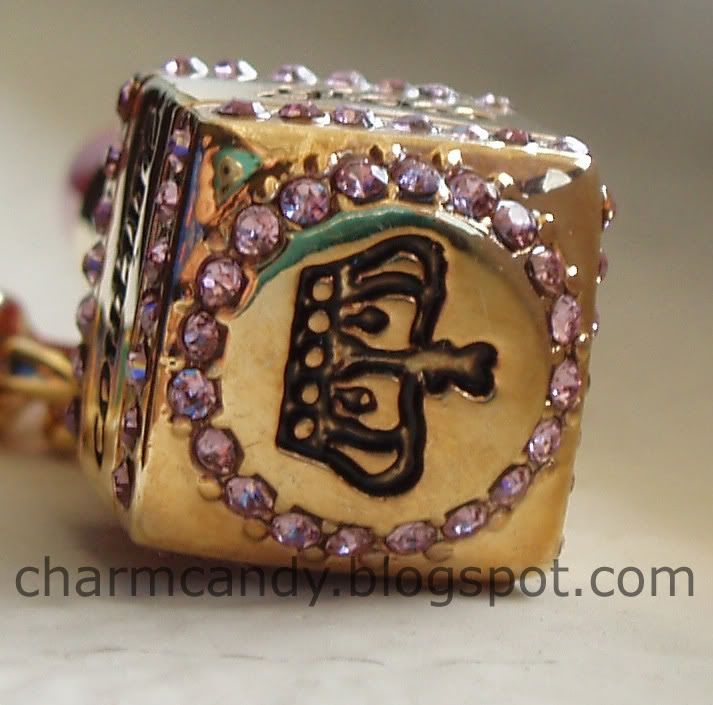 One of the hallmarks of being a girl is, I think, cosmetics. Whether it's blush, mascara, glitter, or lip gloss that captures your heart I'm pretty sure we all have something that is a staple inside of our purse.
For me? Generally it's a lip product of some kind. I'm more of a balm girl but when I have time I am all about lipstick and lipgloss. This charm defines the meaning of girly; it's pink, it sparkles, and it's jewelry and cosmetics combined.
The best part of this charm is that the lipstick actually twists up inside of the tube! Not many of Juicy's charms have moving parts like this so that immediately sets it apart from the rest. It is also one of only three cosmetics charms that have ever been made (the other two being the nail polish bottle and the eyeshadow compact). If Juicy were ever to make a lipgloss charm I'd be tickled.. well, pink!
You'll notice in the middle photo that the lipstick does stand on its own, but not entirely straight - this is due to the design with the logo and crystals on the bottom and the weight of the clasp on one side. My only real complaint is the writing along the bottom - it reads "Couture Gloss" which doesn't completely make sense to me since it's lip
stick
. Maybe a better slogan could have been Couture Kiss? Either way, it's a very small issue in the grand scheme of things.
Price:
50.00*
Box:
Black/Blue
Code:
YJRU0871*
*This charm was produced prior to Juicy adding descriptive names and prices to the bottom of their charm boxes. This is the code given on the box that the charm was in, but does not necessarily mean that this is the correct price and YJRU code for the Lipstick charm.