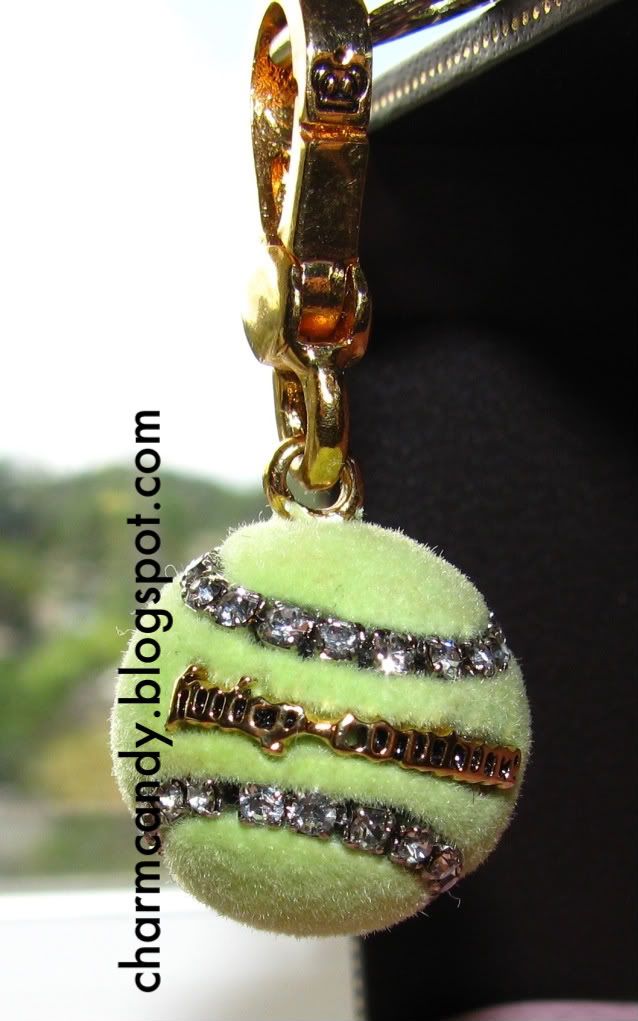 Another underrated charm that I do so adore! When this charm first came out I was on the fence about it. I play tennis occasionally and have never really had an interest in watching the professionals play, so it's not like I was wild for the sport to begin with.
My mind changed when I got my hands on it. Why? If you can see it in the third photo, the material exactly replicates that of a fuzzy yellow tennis ball! How amazing is that? Maybe I'm just impressed with simple things, but I love that one of the most important traits of a tennis ball wasn't overlooked. It could have been plain enamel like it was on the tennis racquet charm, but it feels like Juicy took the extra step to make it feel more authentic. I also love the interpretation of the traditional white stripe into a sparkling circle of crystals.
This charm was later reproduced in a pink Limited Edition version, which is equally cute and fuzzy. The pink one is slightly harder to find than the yellow, but neither one goes for sky-high prices when you can find them for resale.
Price:
42.00
Box:
Brown/Pink
Code:
YJRU1529