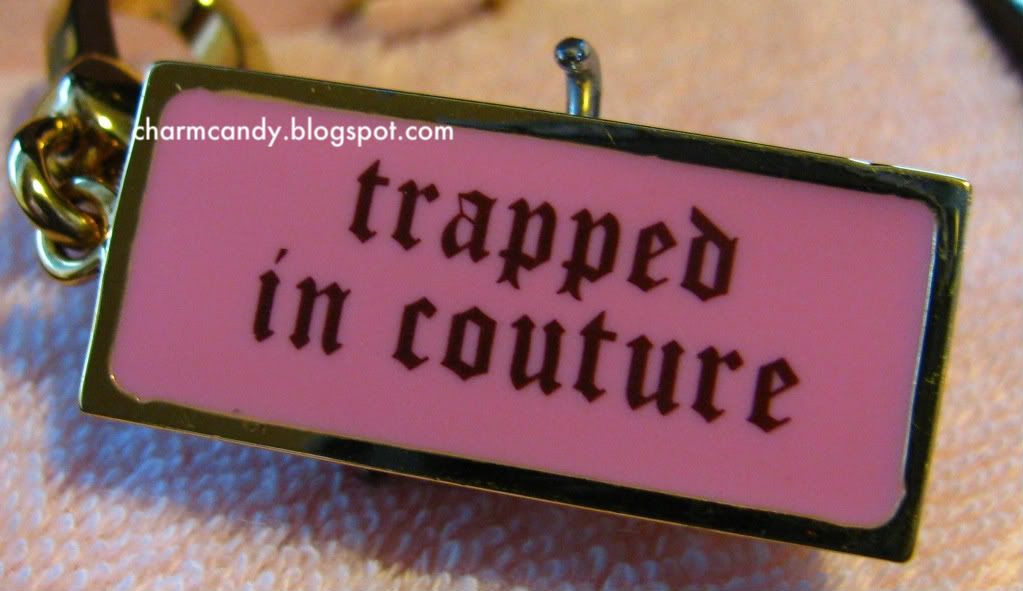 Never in my wildest dreams did I ever think I'd want a mousetrap anything (other than the classic and terribly fun board game). I'm a big animal lover and cringe at the thought of getting rid of a household pet with this method, so I am super relieved that Juicy chose to gloss right over that and turn it into something adorable.
Behold! A sweet little engagement ring (or a just-because-I-rock solitaire ring) is ready and waiting for someone to try and snatch it up. No one's getting it though, regardless of how crafty. It is very securely attached to the charm, and both pieces of metal are thick enough that I doubt the ring would ever be able to just slip out. The top of the trap simply reads "juicy couture" and the back, as you can clearly see in the second photo, says "trapped in couture".
I think the concept is cute, and only one thing leaves me wondering -- shouldn't the girls be setting traps for boys and not the other way around? ;) Although I have no idea what you'd put in a trap for a boy.. possibly a DVR full of football games or a 6 pack of beer?
It's worth noting that the charm is HUGE. The pictures don't really convey that, but the charm and the clasp can't lay straight in the box due to its length. It's probably at least an inch long (if not slightly longer), maybe 1/4 to 1/2 an inch wide. The "diamond" is roughly equivalent to 1/4 carat.
Price:
$52.00 MSRP
Box:
Brown/Pink
Code:
YJRU3174
Season:
Late Summer 2009
From:
Juicy Couture
Misc.:
Made in China, not intended for children under 12.