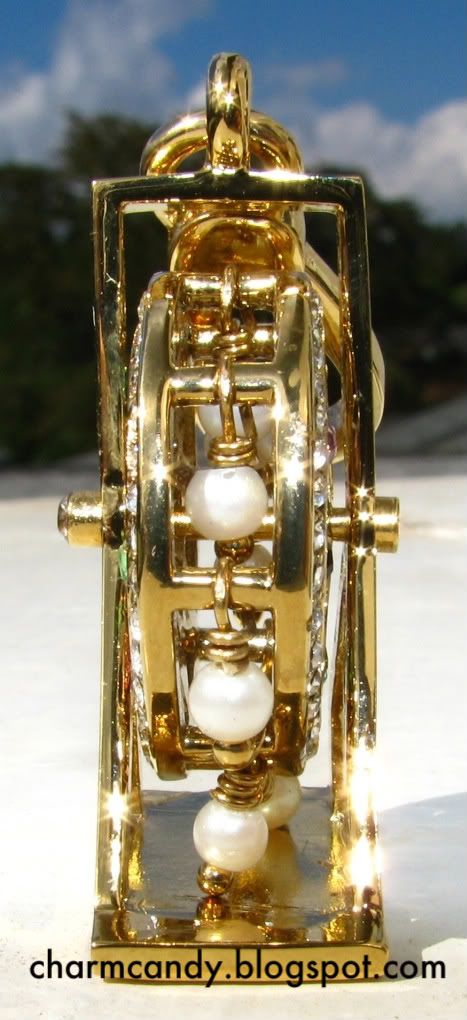 Okay. My pictures are a little funny because I can't get the exact dimensions right so clicking on them to see them full size would be a good idea.
I. Love. This. Charm. Failure it is not! At least, not in my opinion.
What I love the most are the colored stones on the outside of the ferris wheel. Just look at them! They used gorgeous colors, even though I could stand without the mixture of pastel and primary stones. The gold is a perfect choice to accent the clear crystals and the white pearls (eight little dangling ones, made to represent the seats I presume).
The ferris wheel does indeed spin around, same as the carousel charm. I know this is going to seem like a super short entry, but that's how it usually is when I'm ecstatic about them. There are very few complaints concerning this charm! You might have problems with the pearls occasionally catching along the bottom of the charm, but it's not a big deal at all. Unless your plans are to just sit around and spin it all day, of course.
Also, I'd be pretty careful with this charm. It's totally packed with crystals and we all know how hard they can be to find an exact match to and replace.
It's getting harder and harder to gauge whether charms will sell out or not. The panda had all of the makings of a hit but it's still plentiful everywhere you look. I personally think this one will become hard to find and highly valued - it moves, almost every inch is covered in sparkle, and they've never made a charm like this before. Perhaps Juicy has been producing more and more charms? I'm not sure. Either way, grab this one if you like it if for no other reason than that you want it!
Price:
58.00
Box:
Brown/Pink
Code:
YJRU3615