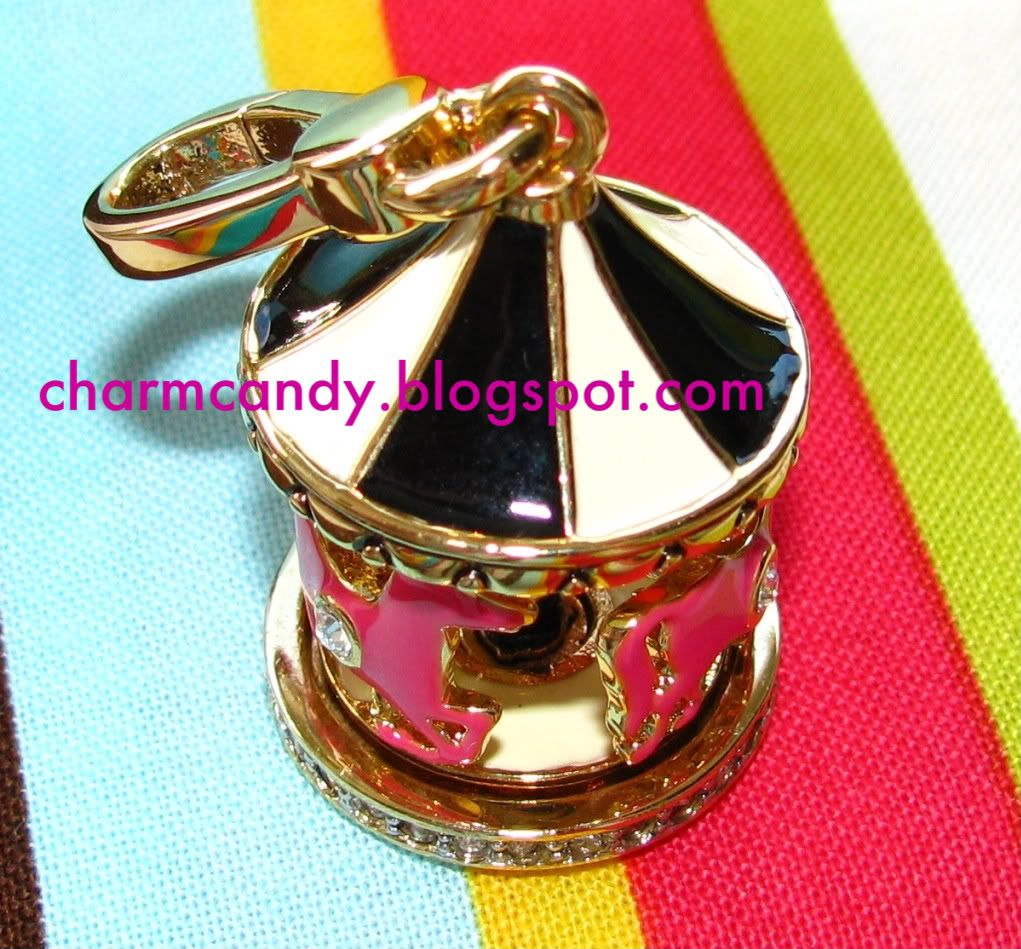 So maybe this charm fell a little short of everyone's expectations. The stock photos are terrible (really, Juicy.. hire someone to do justice to these things) and flat disproportionate ponies are not what one thinks of when they hear "carousel!"
But you have to give this one a chance. I promise you several things: first, it looks SO much better in person than it does in any picture you're going to see of it, and second, there is a lot of great detail in this charm that's hard to capture.
My favorite thing on this charm is the top. Which sounds weird, but it just has that classic "big top" kind of feel to it. Black and cream (not white, as the pictures suggest) stripes that all tie together nicely at the top give it a more modern spin. There is also a black and cream striped pole that runs down the center of the charm; you can see it barely peeking out from behind the horse in the first picture.
The horses themselves are my main disappointment with this charm. Carousels should be a huge source of inspiration; they've had everything from horses to zoo animals to movie and book characters. So why just horses? I'm not sure. What's worse is that they're totally flat! I'm sure this was more of a physical constraint than a design flaw; I can't imagine that it would have been easy or cost efficient to make fully 3-D horses that small. The pink color ties in nicely with the black and white, and each one is anchored by a crystal set in the middle.
Each horse is attached to a twisted golden pole. This is one of those little details that I'm talking about; it really contributes playfulness to the charm. There's also a ring of crystals that run all the way around the bottom, and let's not forget that the horses DO spin around on this one!
Overall, I do like this charm a lot. I think I've said it a few times before, but my childhood bedroom was nothing but carousel horses for 10 years. Even if this had been a completely ugly charm (like the prototype photos many of us saw floating around a few months ago) I still would have gotten it just for the sake of nostalgia. If you're going back and forth on this one you should definitely go check it out in person before deciding. The price is slightly absurd, but I can kind of understand it for a charm that has a moving piece. Still, seek out all possible discount codes and websites before committing to the MSRP!
Price:
58.00
Box:
Brown/Pink
Code:
YJRU3614