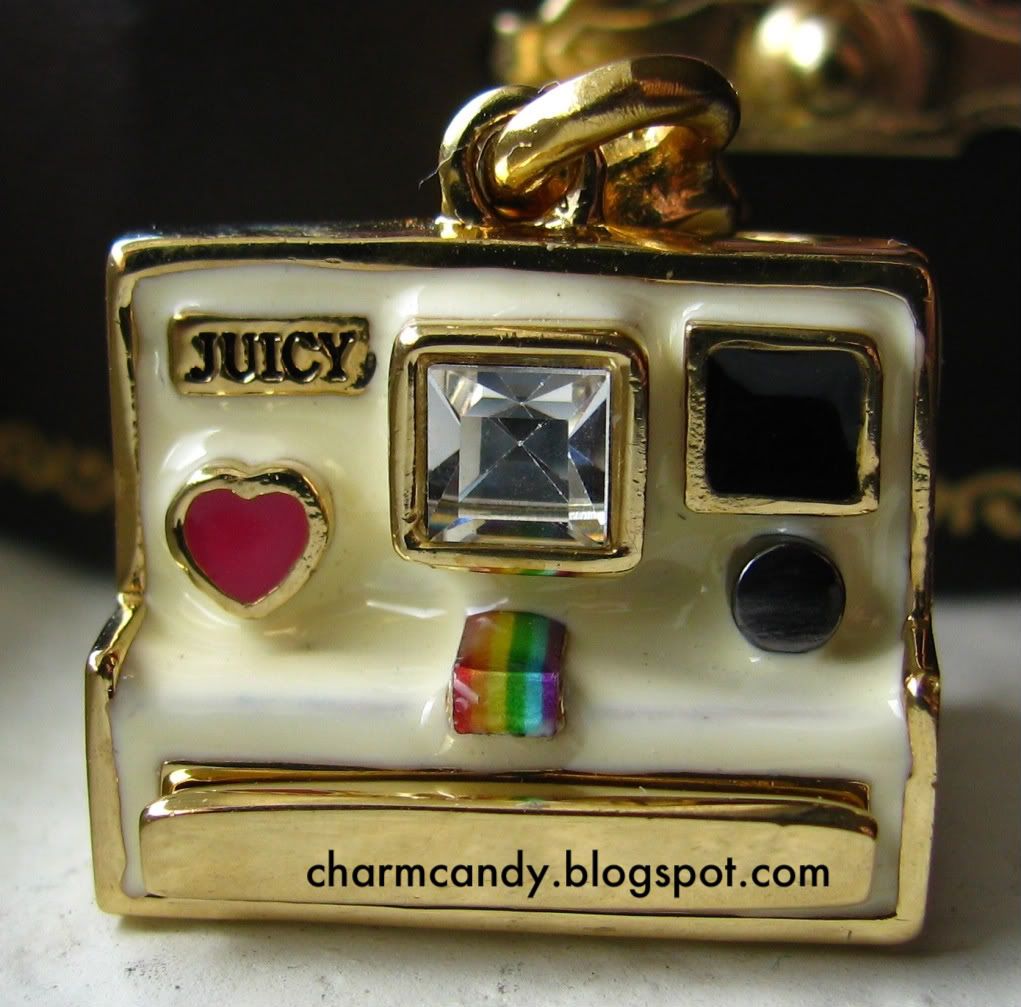 I keep a small Juicy bag near my bed with all of my newest charms in it, since those are the ones I'd most like to photograph and write about before I put them into the Armoire-O-Doom, which is quickly running out of shelf space. So is my little Juicy bag! I apologize profusely (sorry, sorry, sorry!) for severely neglecting the blog these last few months. Suffice to say that the last quarter of 2009 has been a rough one for me, and many things have fallen to the wayside.
Anyway, on with the goods!
This charm created quite a buzz when it first started popping up on eBay. If you were born prior to the age of digital cameras then you are quite likely to know what a Polaroid camera is. Or, I guess was -- the cameras have been since phased out and the film is no longer being produced. :( Juicy has given us a permanent monument to times past; this charm is SO CUTE! They captured the shape spot-on and I'm glad they went with a cream color instead of the traditional black.. it makes it feel happy and light.
The front of the charm has the most detail. A crystal "light bulb", a red heart, a rainbow stripe, and the word Juicy deck out the face of the camera. The heart and rainbow are a nice touch -- kind of throws me back into the 80's. The back and bottom (no picture, it's just the logo stamped on though) are minimal, which is good. There's a nice little surprise waiting for you inside the camera, though. A picture! There are whispers that the image is of Marie Antoinette, following with the indulgent French theme that many pieces carried this fall/winter. Who it is I can't say for sure but it's adorable. Click on the middle photo for a bigger image.
This charm isn't exactly flying off the shelves, so I'd say you're safe in waiting for it to come down in price (because really, the price is very inflated for what it is) or possibly even hit the outlets. It's really cute but I think it's too specific to appeal to everyone, especially Juicy's younger demographic.
Price:
58.00
Box:
Brown/Pink
Code:
YJRU3465