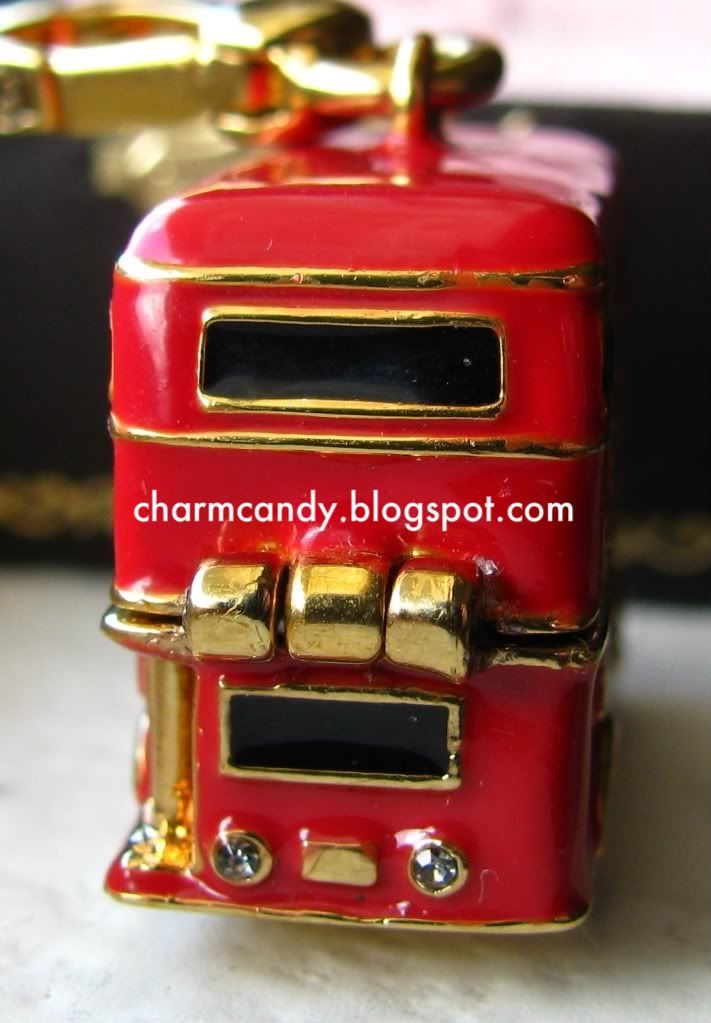 London calling! This is the last of the British series charms that I picked up; I do not have the wellie boot or the guard's head.
So. If you've been to London (my second favorite city, only to be outdone by Vegas) then you have seen the red double decker buses without a doubt. You've probably even ridden on one or two -- I sure did both times I was there! Almost got mowed down by one, too.
There was no doubt in my mind that I HAD to have this one when it came out. Not only was it my love for London spurring me on, but it has a yorkie inside! The charm keeps the details fairly minimal; you've got the windows and crystal headlights/taillights and some gold edges thrown in. One thing the pictures don't convey? The wheels actually spin! Very nice touch, Juicy. I wish there were more to say about this charm but it's all pretty straightforward and right there for you to see.
This charm came out in late summer so you're not likely to find it on websites any longer. You may have luck calling up individual Juicy stores or department stores like Nordstrom's, but it's more likely that you'll have to rely on outlets getting some in (if there were any left; the London series was quite popular) or the dreaded eBay.
Price:
52.00
Box:
Brown/Pink
Code:
YJRU3130