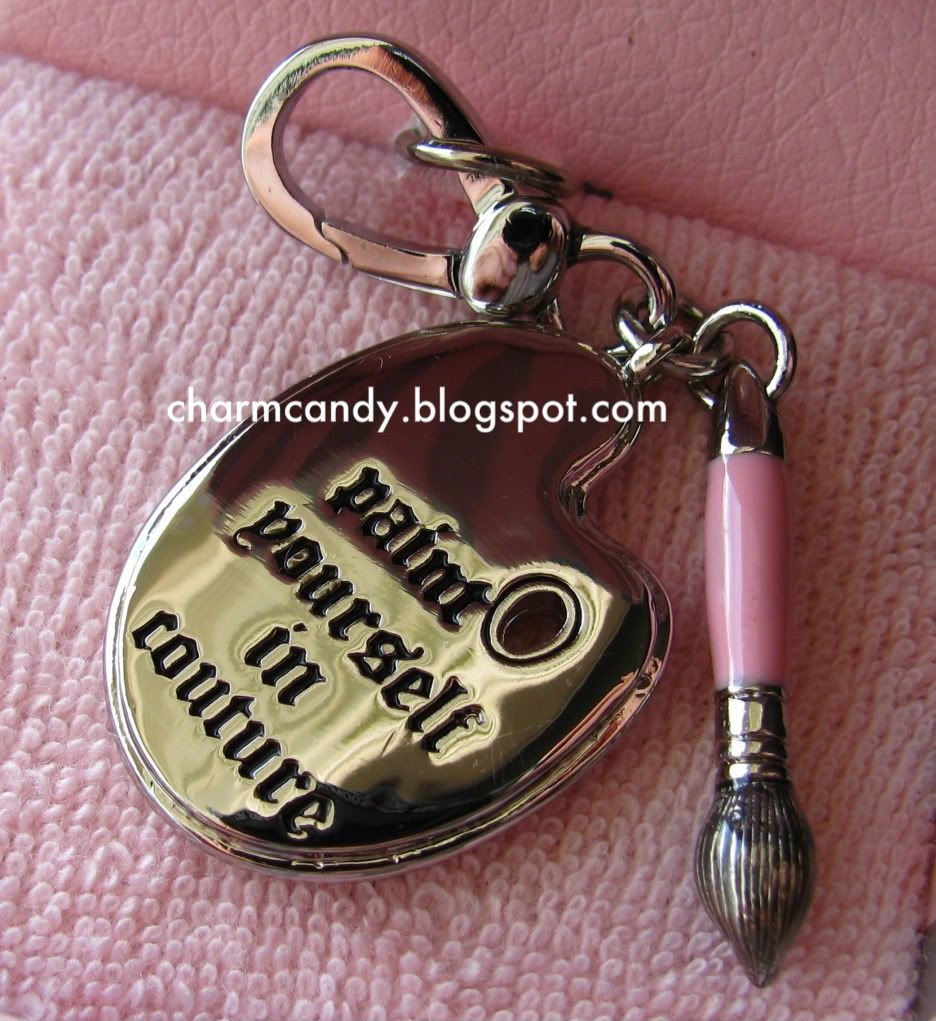 Surprisingly enough, I haven't been able to locate this charm yet on some of the more mainstream websites like Juicy's own, Neiman Marcus, Nordstrom's, or Revolve. So far it looks like you're going to have to resort to Sak's or Bloomingdale's to pick this one up online (for the time being).
Now down to business! I love the palette half of this charm, for the most part. The only thing that disappoints me is the color selection of the crystals they used to represent the paint. Why so pastel and dull, Juicy? We have light pink, light green, dark blue, light purple, and light yellow. The pink and purple are very close in color, as are the green and yellow. The blue however gives a startling contrast to the color scheme and leaves a rather uneven feeling to the whole thing. The overcast weather gives my photos a darker hue; all of the colors are much brighter in person.
The brush is a cute touch, but not to scale. There is a great amount of detail on the head of the brush; the subtle lines definitely suggest it's full of big and fluffy bristles.
On the reverse side of the palette you'll find the words "paint yourself in couture" printed in old-fashioned letters. If you're picking this up in person you should be sure to check this area out carefully, as Juicy often doesn't do even prints when it comes to letters on charms or tags. Mine is missing color from the top half of the "f", for instance.
Although the palette charm is thin it has significant weight, and feels like the whole thing is made out of metal. This is a refreshing change from some of the disappointing plastic charms from earlier this year (such as the mouse and cheese or the 3-tier cake).
Price:
48.00
Box:
Silver/Pink
Code:
YJRU3464
P.S. Just today and tomorrow left before a winner is picked for the candy cane charm!