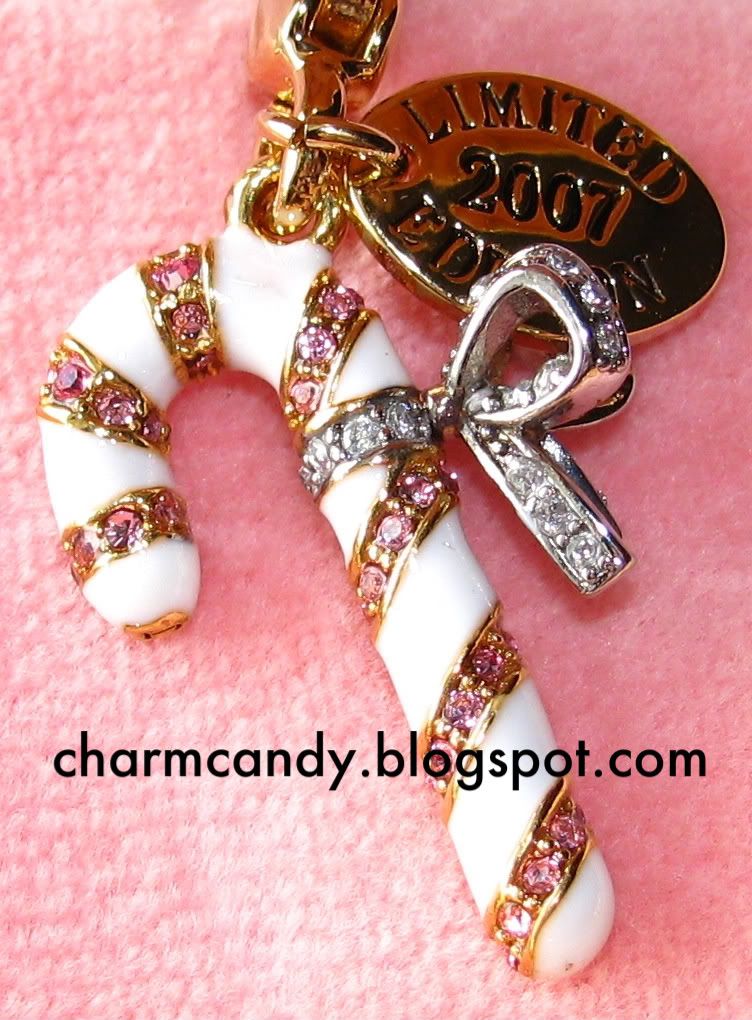 Leave it to me to find a great deal on this Christmases-past charm over the summer, only to see it re-released (albeit in silver) this winter. I'm not too upset about it, though; this was my second LE 2007 Candy Cane as I had gotten one when they first came out. Why do I need/have two, you ask? I'll tell you in just a bit.
First let's talk about this charm. It's pretty perfect, save for the fact that the crystals are pink and not red. Would it have been better done in red? Possibly.. I mean the red and the white stripes are what makes candy canes so iconic. Red and white striped anything will usually remind people of candy canes, even if they're not shaped as such. But that's about my only complaint with this charm because I think the rest of it is perfect. The white enamel is smooth and makes for a great contrast against the chunky pink crystal stripes. The silver and crystal bow is a gorgeous little detail. It doesn't overwhelm the candy cane and adds an extra dimension of presentation to it, as if someone has wrapped this candy cane up just for you.
This charm was pretty hard to find at a decent price before it was revealed that it was being re-released in silver this season. The OCD part of me wants the candy cane in silver but I have resisted it thus far because they really are exactly the same except for the plating color and tag. Still, I think the gold is just a little bit shinier than the silver anyway. ;)
Now the good news. My amazing-summer-find Candy Cane was purchased just for Charm Candy! I'm giving it away and you have all of November to enter to win. Every comment you leave (from this post forward) will count as one entry. On December 1st a winner will be randomly selected, via the same method as last time. I know that seems like a long time away, but this gives everyone time to increase their odds and will be a nice little holiday surprise in the mail for someone by the time the deadline rolls around. Also, I'm hoping it will force me to return to my 1-a-day posting system I had going earlier this year. So comment away -- this is open to everyone (unless you're in Greece or Italy :[ .. mail mysteriously vanishes in that area too often)!
LE Tag Year
: 2007
Price:
48.00
Box:
Gold/Pink
Code:
YJRU1459